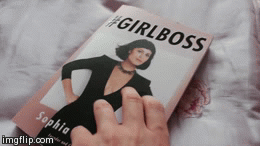 #GIRLBOSS: It's taking over the internet! But what's it all about? And do you reckon you've got what it takes to become a #GIRLBOSS? Read on to find out.
So in case you're not sure what I'm on about, #GIRLBOSS is the story about Sophia Amoruso, who is the founder and CEO of
Nasty Gal
, a store I have loved for a long, long time now. It's essentially a shop selling clothing, shoes and accessories for young women, so nothing groundbreaking so far, right? Well, what makes Sophia's story so remarkable, is that in just eight years Sophia has built Nasty Gal from a vintage store on eBay to a 100 million dollar company with 350 employees. To be honest that's pretty mind blowing!
Now first and foremost let me get a little bit embarrassingly honest: I don't like reading. It's not something I'm proud of, but it's just never something I've been able to enjoy. However, when I heard Sophia was releasing a book about her Nasty Gal story I was eagerly awaiting the release. Also, this book is a very quick and easy read so perfect for those, ahem, like me....! It's very story heavy, it's funny, it's endearing and it's full of Sophia's brilliant personality so it's just so much fun to immerse yourself in. Sophia has had led such an interesting and crazy life so far that I found myself wanting more and more, and I struggled to put it down after each chapter! I actually read this whilst I had a week of tests at hospital, and what I loved most about reading #GIRLBOSS is that through the chapters I felt like I was friends with Sophia. I related with so much of what she had to tell, and whilst I can't relate to the more wacky elements of her life (she spent her teens hitchhiking, committing petty theft, and dumpster diving!) I just found it so fascinating!
I think what I really loved the most about #GIRLBOSS and Sophia's journey is that her success story didn't have one single tipping point. So, Sophia started off smart and hard-working on her Ebay store, and she ended up smart and hard-working in the world of investors and the big business playground. And what resonated throughout the book for me, and actually got me thinking in real life, is that there is no magic formula for success. This is true for Sophia's story, and I believe the same is true for most successful people, especially in the digital age. So much to running a business is self-education is experimentation, lessons learned the hard way and yet ultimately, good choices made based on all of that experience. And so in #GIRLBOSS, Sophia reminisces about getting fired from teenage jobs in a shoe shop with the same honest tone about working with investors and hiring and firing employees.
Another huge highlight to #GIRLBOSS, and possibly the most important element I resonated with, is how hands on Sophia was, and how she still is in her business. So, we hear how in the beginning it was just Sophia, and then an assistant, and she did everything from the photography, to shipping, to marketing and to taxes. Now this right here pretty sums up my
Beauxoxo
journey in one! But even now, Sophia is still ridiculously hands on even though her business is a multi million dollar company, Sophia has chosen the role of creative director and I absolutely love that. That right there is my ultimate dream, and it's actually really rare to see a CEO who is also a creative director. I really admire how committed she is to that creative vision and direction, that heartbeat of her business, when she could have left that all behind. She's 100% Nasty Gal through and through. In a similar vein, Sophia is as connected to her customers as ever since she started her very first Myspace page back in the day, and this was super inspiring to me. The fact that she has
her own personal Twitter account
, and that Nasty Gal use
Snapchat
is again super rare.
The only thing I would say about #GIRLBOSS is that whilst this is a book by an entrepreneur, it is not a book about how to
run
a business. If that's what you want then I highly recommend
Doug Richard's 'How To Start A Creative Business'
book. That's because #GIRLBOSS is very light on actual business details, facts or information on how to build a business, and essentially how Sophia managed and navigated the actual growth of Nasty Gal. So, in #GIRLBOSS we do hear about Sophia moving warehouses and offices regularly to keep up with the growth of Nasty Gal, but there is no details about how Sophia managed a distribution chain or the logistics of running a big e-commerce company. However that's not what I expected so to me that was absolutely fine, but that's just a flip side to what some people may have wanted #GIRLBOSS to be.
Overall, as with all empowering books such as #GIRLBOSS, it definitely motivates you and makes you reflect on your own story and journey. For me it's probably a little cliche but: Dream bigger. And there's probably a million and one books out there that carry this same message but there's something about Sophia's story that truly makes you believe that anything is possible.
I feel that my biggest personal afterthoughts from the book on my own life is that
Beauxoxo
has so much more potential than I think I may realise sometimes. And that sometimes you need to see or hear about someone else doing it well to truly believe that you should never let your fear stand in the way of your dreams. #GIRLBOSS is an inspiring read about the power of determination and pursuing your desires as well as the ups and downs that come with it, and just goes to show that being a successful entrepreneur has nothing to do with who your family are, where you went to University, or even if you have a degree and whether you were the cool girl in high school. Being a #GIRLBOSS is so beyond all those things, it's about being fearless, and believing in what you already have.
So, are you ready to be a #GIRLBOSS? Pick up a copy of
#girlboss right here for just £14
. If you've read the book I'd so love to know your thoughts.
xoxo