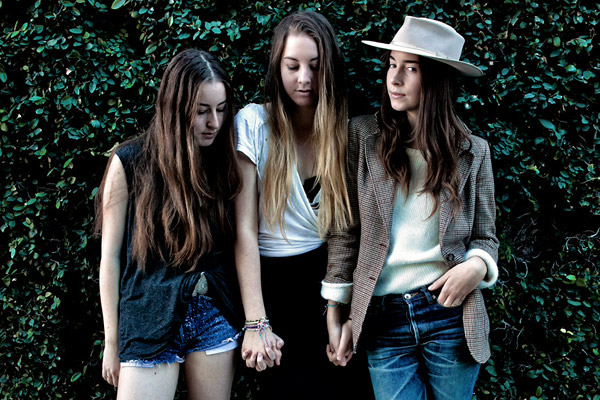 Haim
. From the sun drenched Los Angles, California, the band is composed of sisters Este, Danielle and Alana Haim. Most definitely a family affair, they soon realised their love of music through their parents and grew up listening to classic rock, like the Rolling Stones and Fleetwood Mac, and old-school Americana. Despite this, the 90s pop outbreak was at the time more of a temptation and in an article with Vogue, Este said: "I think we were pushing out against our parents a bit…every Sunday they'd put on 'Breakfast with the Beatles,' but we'd always want to switch it over to something like TLC, En Vogue, or Brandy and Monica."
Eventually, they carved out their own unique style, which has been dubbed as 'experimenting with the stripped-back nu-folk–meets–nineties-R&B-pop'. So, you end up with a wonderful, almost whimsical esque genre that truly shouldn't work, but it totally does! With super glossy harmonies, smooth synth backdrops that flirt with something pop music esque but without the cheese, this girl band oozes cool and I think they will soon be absolutely massive.
So in short, if you're searching for a girl band with a capital C for cool, then look no further than Haim. For your listening pleasure I have picked their latest song, 'Don't Save Me' which is probably their catchiest to date, but as you will see in the music video above, it is has a darker undercurrent I love. This track is
available now on iTunes
and you can p
re-Order 10" at Neon Gold Records (US) & Rough Trade (UK) out December 10th
here
.
Any Haims fan out there?
xoxo
Vogue Article