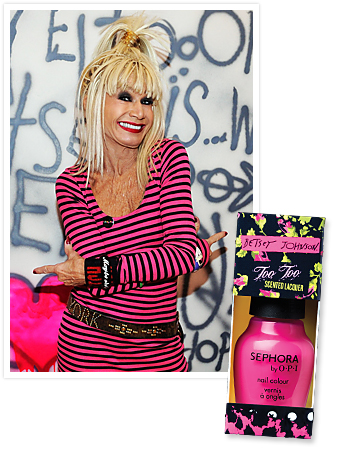 Image Credit
Oh my goodness, excuse me for a moment whilst I try and control my excitement enough to write this post but ahhhhh yes my pretties,
Betsey Johnson
(aka my fashion idol) is teaming up for a Sephora by OPI nail polish collection. YES! This is the most incredible news and to be honest, and possibly quite sadly, has cheered me up immensely from my little mid week slump. The whole collection consists of seven full sized colours (as pictured above), a six piece mini nail polish set, long lasting trend tips and flashy nail designs. Of this incredible collaboration Betsey says:
"I am Too Too excited for my first nail collection with Sephora by OPI! The collection is just how I like it – loud, outrageous, pretty, pinky, and kickass rock and roll."
The seven nail polish colours which from the top row to bottom are:
It's My Pink! (hot pink, scented nail polish that smells like Betsey's Too Too perfume)
Sparkling Personality (gleaming silver glitter)
Forever Wild, (black grape)
Pushing Your Luck (reddest red)
Alley Cat (purple-y fuchsia)
Cartwheels on the Catwalk (sea foam green)
XOX Betsey (sandy nude shade)
Then there's the mini Polish Set that includes:
Son of a Gun (metallic charcoal) (mini kit exclusive)
Yellow My Name is Betsey (yellow) (mini kit exclusive)
Too Too Turq (turquoise) (mini kit exclusive)
Pushing Your Luck (red)
XOX Betsey (sandy nude)
Alley Cat (fuschia)
Then the trend tip designs in the following patterns:
Finally little nail designs with the following decoration:
Cherries
Lightning Bolts
Bow Patterns
Ummmm wow, so wasn't expecting to randomly come across this news, I'm appalled how late I am with finding it all out to be honest. I'm like the biggest Betsey fan girl, I swear! haha. For anymore information click
here
but I highly recommend checking out the
Beautezine
post because it has some wonderful photos of all the packaging and also contains a mini review. I'm going to be completely un-beauty-blogger ish and proclaim I love this collection before it even hits the shelves, I know, I know it's bad, but I am afraid I am so blinkered because I love Betsey so much! But okay, being sensible now, perhaps some of the shades aren't the most unique in the world, but I am all over the Too Too fragranced one, that's such a sweet edge, and the nail trend tips and little nail designs look the main driving force behind this collection to me.
A nail polish collection is perfect for Betsey, and I heard rumours years ago about a beauty range, so I'm more than delighted with this, but would I be pushing it further if I could beg once more for a Betsey Johnson and MAC collaboration? Come on, it NEEDS to happen, imagine the packaging, the colours, the….everything!
This collection is released in March this year in all Sephora stores and
Sephora online
. Bit gutted at it being Sephora as we no longer have the store in the UK. Sob sob. Does anyone know if Sephora does a decent priced UK delivery? I will get detective on this and find out for you all!
Would love to know what you think of the collection :).
xoxo