You all know I am Betsey Johnson's biggest fan, well, I mean, I am rather obsessed, aren't I?! But I totally forgot to blog about her gorgeous Pink Apartment that went on sale last year. Here are some stats about it:
"According to listing information, the 1,660-square-foot, two bedroom, one bathroom, open-plan penthouse includes ebonized floors, a view over the rooftops of Greenwich Village all the way to New Jersey, a floating staircase that leads to a 1,000-square-foot private roof deck. Right now this pink apartment is for sale for $3.6 million."
Now I know it's pink….okay it's very pink, but if you're a girly girl like me, wouldn't you just love to live in this girly paradise? I know I would, and hello, New York on your doorstep! It's pretty much my dream home, and I love the mix of pinks and blacks, and then a colourful splash of 60s yellow chairs.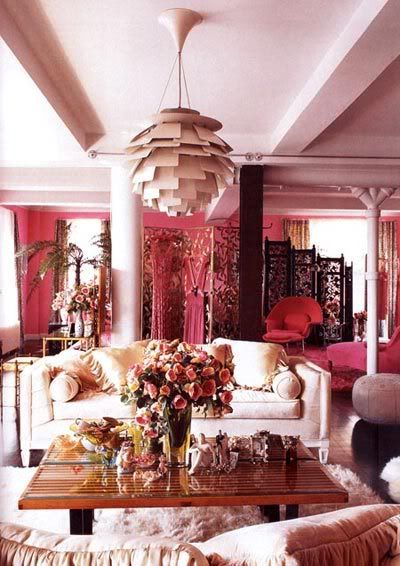 What do you think? Cute or eww? I can completely see why some may brand it as OTT, the internet is filled with mixed reviews, but oh my, my dream home is so going to end up looking like this! For me though I'd mix it up with a few Cath Kidston touches too. I'm not sure every room would be pink. But I'm kind of interested in interior design at the moment, but being at Uni and living in rented halls, there's only so much creativity one can exude. But anyway, I'd love to hear your opinions. Are you into interior design, and if so, what kind of styles do you like?
xoxo