Morning everyone! I don't normally post in the mornings as I'm not here but today I have the day off and so I'm having a huge sort out of my room. It started this weekend (don't I know how to have a fun bank holiday!) but it's still going on today. Last night I was tagged by the lovely
The Bristol Beauty Blog
to answer these little questions. I'm not normally a tag girl, but these questions are really good so I thought it would be fun to do! Enjoy ;).
1. What is your favourite fashion magazine?

Ahhh this is difficult as I'm a bit of a fashion magazine addict! Every week I get LOOK magazine. I like it because it's weekly, and has elements of other weekly magazines, but more fashion and beauty. They're inclusion of make up is one of my favourite things about it, as other magazines tend to just focus on smokey eyes and such every week. Then monthly I adore ELLE and of course...
Vogue! I love both these magazines for a grown up and in depth look at fashion and other issues. Coincidentally, growing up my favourite magazine of all time was...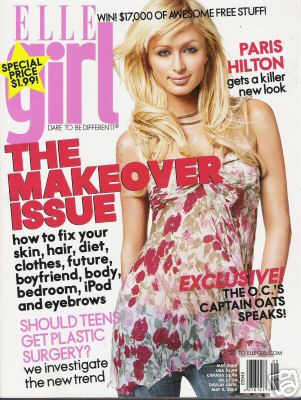 Elle Girl! Does anyone in their late teens/early 20s remember this magazine?! Not many girls read it when I was at school, because it was quite 'fashiony' and most girls were reading Bliss, Sugar etc. It featured proper fashion (the customising tips were amazing!) and grown up articles on real life issues, whilst also balancing this with regular teen girl issues. I absolutely adored it and used to get the US version from Borders every month (R.I.P!) even though it was always late. Then we finally got a UK version but it suddenly stopped. I was devastated!!! I remember traipsing round every single newsagent in my area to find one but no luck, haha. I still sadly have every single UK issue stored, I just can't part with them! I also have a pretty impressive Teen Vogue collection which I also adored, and have been known to occasionally get it now!
2. Who is your favourite singer/band?
This is quite difficult as I love so many musicians but if I had to choose a favourite singer then it would absolutely be...

Vanessa Carlton! You'll probably know her, like everyone else, for her debut single 'A Thousand Miles' and to many she's a one-hit-wonder! Technically true, but she's actually done 3 albums and I adore her! I saw her in concert when I was 14 and it was my first gig and she's an incredible artist live. Because I grew up playing the piano like her I guess I feel more connected to her music than other people. I just have a thing for piano based artists! My favourite band is...
The Beatles! I love, love, love them. My grandfather used to teach Paul McCartney back in the day, so I've always dreamt that one day I could have met him. Hasn't happened yet unfortunately!
3. Who is your favourite youtube guru?
Hmmmm this is difficult. My favourites are the good old proper make up gurus, not the money making new craze of 'gurus'! I love Monroemisfitmakeup, EnkoreMakeUp, MakeUpGeekTV, Mathieu Francis (A Boy Wearing Make Up), Petrilude, Xsparkage, Miss Chievious, Queen Of Blending, What Style is To Nickel and many more, but they're all in that related group!
4. What is your favourite makeup product?
Mascara, definitely! I don't feel myself without some mascara! And if I'm doing full make up then I add some falsies :).
5. Where would you like to live?

I absolutely love where I live now and can't imagine living anywhere else to be honest. Boring answer I know, but if I had to live anywhere for a while then of course London, just because it's the centre of the art world.
6. What is your favourite film?

Don't all hate me...but I'm not really much of a film girl! My attention span is too short, I much prefer TV. Therefore I don't really have a favourite film, but I do love anything with Audrey Hepburn and Marilyn Monroe in. I did really like 'Mean Girls' though, and lately did shed a tear at the latest Toy Story!
7. How many pairs of shoes do you own?
Ahhh how embarrassing, I don't even know! I guess about 40, maybe even 50. I know this is really bad but I have really troublesome feet so I can never afford to give shoes away! The below shoes from Miss Selfridge were my absolute favorite of the summer, and at the same time I could relive my childhood! haha. So, so comfy. Most my shoes come from New Look though, their wide fitting range is fantastic.
8. What is your favourite colour?
Pink! Kind of obvious though, right?! I also love baby blue, pastel green, pastel yellow and lilac. I like colour :).
So that was my little tag! I need to tag two people now but I can't pick just two so if you want to post this on your blog then I tag YOU! Link me to your answers if you decide to give it a go!
xoxo