Hello lovely readers. I have neglected you again, and I'm very sorry! This week has been manic and for some annoying reason I have been exhausted and I haven't really had my laptop on for ages. But over the last few days I have been mentally brainstorming some ideas, and then I saw this pretty sitting on my dressing table. It's the new Juicy Couture 'Couture Couture' perfume and as the advert appears in pretty much everything lately, I thought you'd be intrigued as to the smell!
Now when I think of Juicy Couture, I used to think of Coleen Rooney and the other WAG's velour tracksuits parade, but I have since come to realise that it's actually a pretty amazing brand, and I've found quite a lot of clothes that I've been attracted to.
The co-founder of Juicy Couture, Nash-Taylor said about the perfume,'we decided we wanted a decadent sister to our other fragrances. We always like clean, fresh scents but wanted to try something a little different with this one.' The difference here appears to rest with the pink grape accord note. Here's a little about the fragrance's blurb, and the fragrance notes (which I have highlighted):
"Juicy Couture is busting out with a decadent new scent. Let this 'it girl' fragrance inspire you to show off, be loud, talk to strangers, make a scene, and love life! Juicy girls don't have to do what they're told. They break the rules with style: a delicious perfume in a sparkling flacon, all zipped up with Juicy "J" and crown charms, topped with a shining, golden cap. Inside, contrary pink grape accord makes mischief with orange flower, mandarin, blushed plum, honeysuckle and lazy, creamy sandalwood. Mix it with love & make the world smell good!Love,G&PP.S. Go Couture Yourself....with luscious mandarin wrapped in natural orange flower and a succulent pink grape accord on top...the middle notes sparkle with star jasmine, honeysuckle and blushed plum and dry down to a warm cozy background glittered with amber, vanilla and creamy sandalwood."
The promo poster, with scary girl attacking guy with pinkish glitter!!!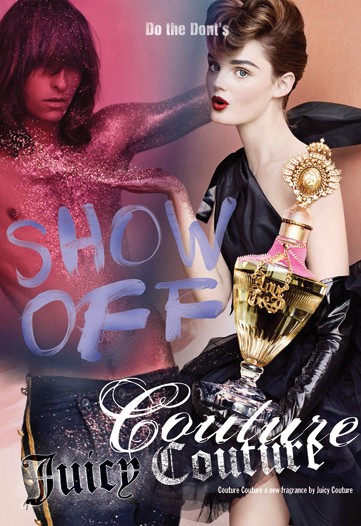 So what do I think? Well when you first open the bottle and sniff, you instantly get a very high fruity note, and the mandarin and orange flower are definitely recognisable. But it also has this, not quite spicy, but this 'mellow' feel to it...if that makes sense? It's the amber and sandalwood notes coming through that is doing it.
Now I've sprayed it onto my skin and it can give you quite a headache if I smell it now, because like a lot of fragrances, they need a good minute to settle into the skin. All I get now is very sharp mandarin notes! So after a good minute or so I'm now getting a lot more of the high notes. I kind of get the pink grape now, and it's definitely making 'mischief' or to me 'clashes' with the mandarin and orange. It kind of sparkles at the top of the fragrance, but I can get different waves of the other fruity notes amongst it.
After a few hours the scent settles down and the middle and bass notes come out to play! This for me personally is my favourite element of fragrances. I can now smell the honeysuckle and finally the gorgeous vanilla mixed with amber and sandalwood. Gorgeous! This is so much better than the first spray BUT it's not that the fruit notes are bad, it's just I'm not a overly fruity fragrance girl. To me it now smells like a little like MAC's Naked Honey perfume, from their collection last summer, but with more bass notes.
Here's a close up of bottle....just how gorgeous is that zip and charm detail?! I absolutely ADORE the bottle and packaging. It's so kitsch, OTT and cutesy, but then that's my style! But back to the fragrance...do I like it? Well actually yes I really, really do...but...(yes a but) it's not my favourite. Only because when you first smell it the fruit notes are seriously overpowering and it takes ages to settle down, and when it does settle down and you get the bass notes, it doesn't stay around much longer than that! My favourite scent in the world is vanilla, so naturally I gravitate to those notes, but I do like this perfume, and for you fruity lovers, this could be absolute love. In fact, as I smell it more, the vanilla finally comes through and I just want to capture this and make it more powerful! My absolute top tip would be to wear an unscented body lotion under this one as it's staying power isn't amazing.
So have any of you tried this fragrance, and if so, what did you think? I purchased this at Duty Free so I paid about £30 for it, but I believe it's about £40 otherwise? This seems a bit too much to me! But then that's pretty much an average perfume price these days. If you want any more information, then here is the
Juicy Couture Fragrance Link
. I will be back in a mo with another post. I'm on a role ;).
Quote reference
xoxo