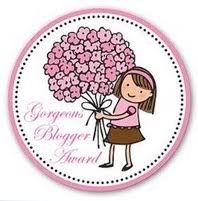 So I was awarded the gorgeous blogger award by one of the most gorgeous bloggers around, the lovely
Abigail
. Thank you so much! So to accept the award:
The Rules
1. Thank the person who nominated you
2. Copy the award and place it on your blog
3. Link to the person who nominated you for this award
4. Tell 7 interesting things about yourself
5. Nominate 7 bloggers
6. Post links to the 7 blogs you nominate
7 'interesting' things ;)
1. I make hair accessories. So when I'm not blogging, working or studying I'm making little hair bows and such! I was half thinking of setting up a shop but I'm not very good at the technical side of things!
2. I've been saving up for a Chanel handbag since I was 13. A few months ago I almost got there but I had to spend my hard earned savings on an unexpected bill from Uni.....*wail* haha. I was GUTTED...actually was?!...I STILL AM! haha.
3. I've been trying to meet Betsey Johnson for years but everytime she's in London I've had an exam or something annoying like that. One day though, one day! :).
4. The number 4 key literally JUST broke on my laptop...when I press 4 it's the plastic underneath the key! haha. Can you tell I've COMPLETELY ran out of 'interesting' things to say?! 4!?4444!!! ;)
5. I'm hoping to go to Japan next year. I'm so longing to go to Tokoyo. I absolutely adore the Japanese fashion- I look at my little Harajuku Lovers perfume and dream of dressing Lolita style and walking round in lace and...*le sigh*.
6. Talking of travel...I really want to go to America again. In particular I really want to go to LA, New York and Las Vegas again. I have moments when I really want to work in New York for a bit, an internship or something. But then I chicken out ;).
7. I've just used LUSH Cupcake face mask and forgotten how much I love it.
Opps, the above turned into 7 random facts not interesting things! Sorry! But the next put is to tag 7 people so I nominate these gorgeous bloggers. For the record though you're ALL gorgeous:
1.
Abbiebabby
.
2.
Tacky Blue Eyeshadow
.
3.
Daisy Bee Beauty
.
4.
Lauren Loves
.
5.
Just Another Beauty Blog
.
6.
Paris Boutique
.
7.
Make Up Princess
.
xoxo