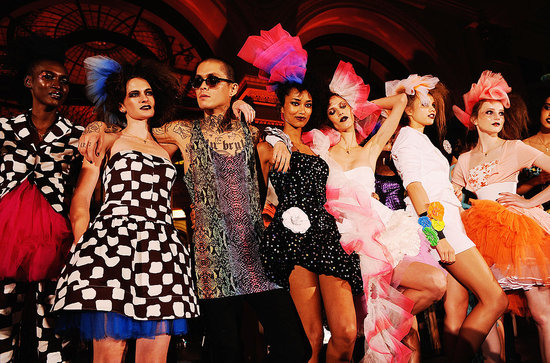 I know as a UK blogger I should be all over London Fashion Week, which I am, but to be honest I much prefer New York Fashion Week. And you're probably quite shocked by that but it all boils down to this one lady- my beloved Betsey Johnson! Long time followers of my blog will know that I am a little (okay hugely) obsessed by this infamous New York designer. Every time a new collection comes out I excitedly search the web to find all the details, all the photos and most importantly eyeing up what items will be stealing (okay, willingly have) my money! ;).
Every time
I see the shows I get so, so envious as it's my ultimate dream to a) meet Betsey and b) to be front row at her show (or just being there!). Neither of these have happened yet sadly. I almost did meet her though, but I had a Uni exam the same day, which of course I would because life has a way of throwing those sort of things together!
Anyway
, this spring/summer 2010 collection was presented on
Tuesday
at the newly restored Plaza Hotel in New York entitled,
Betsey's One-Night Stand
. The reason she was doing the show here was because she is creating a Eloise suite for the hotel. So you'll know where I'll be staying next time I go to New York!
According to Vogue, Ida Marie played Blondie tracks throughout the show, and I'm definitely getting that Debbie Harry vibe in this show. That's the only thing worth noting from the Vogue write up though. They imply that the collection isn't anything new from Betsey but I disagree. Yes, you've still got the frilly prom style dresses which make up a lot of Betsey's signature style, but look further and you also get an impression that this collection is a lot darker than previous years. Take 2009's Spring/Summer collection as an example, which centred around prom Queen and King's, with a distinct 50s vibe. This year however, the models look a lot more fierce. Just take a look at their make up- black smokey eyes and a darkish red/black lip. This is the type of look we see dominating the autumn and winter collections this year...just take a look at
MAC's
Style Black collection as an example! Oh and look at the guys! Tattoos and all, a little more risky than the clean-cut Prom King's of 2009! And my picks? Well I'm absolutely loving the orange tutu look and how fabulous is the outlandish headgear? And in the last picture...I think the girl in the white has a
bracelet
with
over sized
pom-poms on. That will be my next crafting mission!
So overall I love how this collection goes back to Betsey's punk and
nonconformist
attitude. Yes, I love her unapologetic love for the frills and all, but this year I feel Betsey's really releasing herself into her designs more than ever. But what do you think? Whose collections did you like this year in New York? Let me know below!
Pictures from:
here
and a great gallery at
ELLE
.
xoxo